MES VS. ERP | Part 2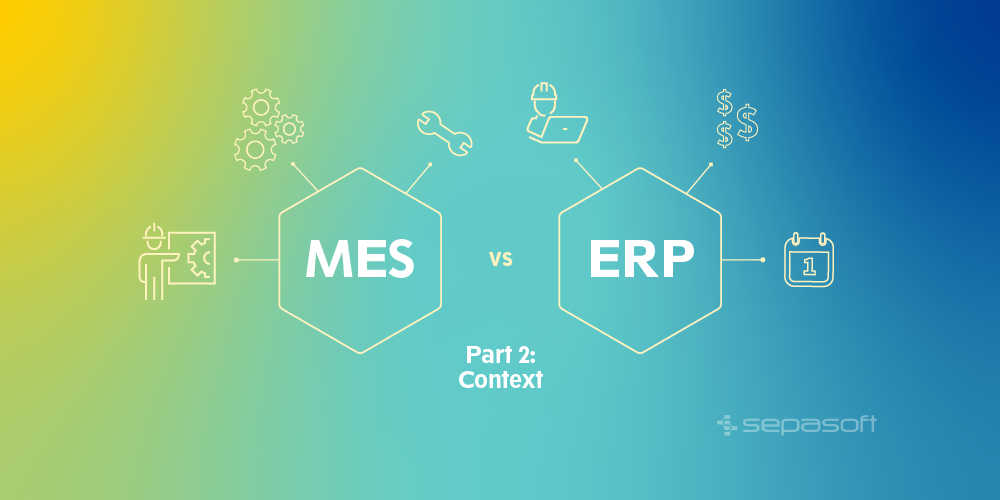 TOP 3 ERP VS. MES DIFFERENCES | PART 2
Enterprise Resource Planning (ERP) vendors often advertise features provided by Manufacturing Execution Systems (MES), so we must ask, which system is best suited to the task? What is best for my organization?
Before we determine a solution path, we should consider the differences between ERP and MES and weigh their strengths and weaknesses. These considerations are classified under three categories: Time Scale, Context, and Cost.
In our last ERP vs. MES post, we considered the significance of Time Scale when determining whether ERP or MES is most appropriate for a given use-case. In this post, we will discuss the importance of Context when it comes to the understandability and usability of manufacturing data.
Time Scale
Context

Total Cost of Ownership (TCO)
Part 2: Context
Ones and zeros are important, and in the digital age they are critically important. However, without proper context, they are meaningless. In a manufacturing environment, data context provides insight, allowing you to find the signal among the noise of real-world data sources.
A simple example of production counters illustrates this point. A PLC counting products on a conveyor belt requires context to be useful to management. Is this the good product discharge conveyor or the reject conveyor? It makes all the difference in the world to your bottom line!  And by the way, how does one connect to this PLC counting our products?
MES systems are built with this manufacturing context in mind.  MES is built from the plant floor up to natively-talk to factory automation systems. Furthermore, MES utilizes standards such as ISA-95 to organize data specifically for manufacturing. By building upon standards we find clean data in its proper context, ready to be leveraged to drive continuous improvement and, therefore, profitable businesses.
ERP systems are typically built to address specific needs, such as consolidating customer orders into production orders, ordering raw materials, and tracking resource costs. How does this adapt to a physical plant where typically the ERP system is concerned with the line level and above? This underscores the need for MES as a high-level, manufacturing-centric, data-concentrating and contextualizing system between the ERP and the plant floor.
As one Systems Integrator* famously quipped – "Do you want your software to wear wingtips or safety toes?" MES should wear safety toes and promote understanding of the plant floor data in proper context.
*Jason Rodewalt (BWDG)
Click here to go to Part 3: Total Cost of Ownership >>>
How Can Sepasoft Help You?
To learn what Sepasoft MES can do for your organization, please schedule a demo.