Connect with Production Data
Data Connections
The Track & Trace Module does more than track products through the manufacturing process. It pulls together production information from various sources:
Overall Equipment Effectiveness (OEE)
Statistical Process Control (SPC)
Recipe
Historical trends
And more
The module can also be used to query data from Enterprise Resource Planning (ERP) systems. The MES Track and Trace provides navigation and linking of internal and external data together in an easily understandable visual display. It allows any enterprise to standardize its system across multiple facilities.
Visual Trace Graph
With the Track & Trace Module, you can search for product information through a unique and easy-to-navigate Trace Graph display. The Trace Graph displays your search results in a visual format with the raw materials on the left, the manufacturing procedures in the middle, and the finished products on the right. The Trace Graph allows you to see all of the processes, runs, lots and routes each product passed through. All of this information is organized chronologically and displayed in one place, making it simple to find the exact information you need.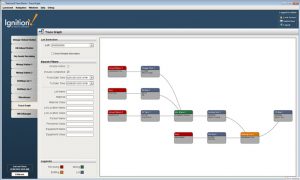 In-Depth Data and Analysis
The module brings together OEE, SPC, ERP, recipe, trend and more information, placing it at your fingertips as never before. Quickly get action summaries. View trends within SepaSoft MES, and query external systems such as ERPs or warehouse management systems. See correlations between efficiency and quality. Keep an eye on historical trends, and access information related to compliance. This variety of valuable data gives you the insight to make better decisions.

Are you interested in learning more about the Sepasoft MES Suite? Want a hands-on experience with our products?
Click the button below to request your MES demo.