Matrix Technologies, Inc.
Sepasoft MES Gold Integrator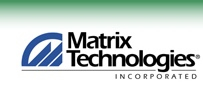 Matrix Technologies is a versatile, full-service resource for process design, automation and information system engineering. Industrial manufacturers around the world have trusted us with their most challenging projects for over 40 years. Throughout the constant technical and business challenges over the past four plus decades, Matrix has been a strong, consistent, stable partner to meet all your project and production challenges. With seven U.S. offices, a knowledgeable and experienced team, a proven project methodology, and unmatched industry expertise, we can deliver your project on time and on budget. We serve national and global customers, with an installed base that spans 45 countries. Discover why hundreds of the world's most successful industrial companies choose Matrix as their process design and automation engineering partner.
MES Certifications

>

>

>
2 Gold AND 1 Credentialed MES ENGINEERS
1 LOCATIONS
3.0 OEE, Track & Trace, and Settings & C/O
A large flooring and surface manufacturer was looking to implement a plant wide MES system,
A large flooring and surface manufacturer was looking to implement a plant wide MES system, starting with a first phase to replace an aging mixing system which provided little visibly into operations and lacked material tracking and real-time OEE performance metrics. The key functionality of the new MES system is to provide Recipe management and real-time visibility into OEE along with material tracking.

The implementation of the Recipe management was customized to reflect the previous system to limit the adoption time, while providing a robust system of Recipe management for thousands of recipe variations. The new system provides for management and reporting of all recipes, both in development and production.

The OEE and Tracking capabilities were also implemented to provide up to date material tracking and performance metrics for operational monitoring and continuous improvement of the process. This not only improved data collection but provides analytic enablement to gain further insights into the operation.

Having increased visibility and collecting real time data from the plant floor provides for operational visibility to the business, allowing decisions to be made quickly. This led to operational efficiency and improvement when reactions to shop floor events can be made quickly to address issues.

The solution leverages a design that is also scalable and extensible. It was designed with a redundant server to provide for high availability during any unforeseen outage of the primary server. This provides for continuous operations and ensures downstream operations can be rapidly deployed in future implementation phases.
Aug 2020 - Mar 2021
---
Locations
Contact
---

OEE Credentialed
1 Engineer

OEE Gold Certified
2 Engineers

Settings & Changeover Gold Certified
2 Engineers

Track & Trace Credentialed
1 Engineer

Track & Trace Gold Certified
2 Engineers