Web Services
Connect Your Information Systems Together
The Web Services module allows access, and data flow between other systems using web services over the web or private network so you can share information as detailed as work orders, schedules, product definitions, and asset information, or as simple as getting the weather forecast. This module enhances the infrastructure of a manufacturing industry. It helps in data exchange between ERP and MES systems.
Simplified Configuration
Easily configure web service operations and data types visually, then invoke web service operations from your HMI, SCADA or MES system to read data from or write data to ERP or any other system that supports web services.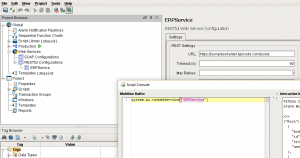 Web Service Technologies
Web Services are a form of service oriented architecture (SOA), intended to enable developers to create components that can be assembled and deployed in a distributed and heterogeneous environment.
We support SOAP (Simple Object Access Protocol) and RESTful (Representational State Transfer) protocols.