Sepasoft® is recognized as a "Challenger" in the
2019 Gartner MES Magic Quadrant Report
Gartner Research provides insight into the global MES market and organizes companies according to their core MES functionality in comparison to their extended MES (or MOM) functionality.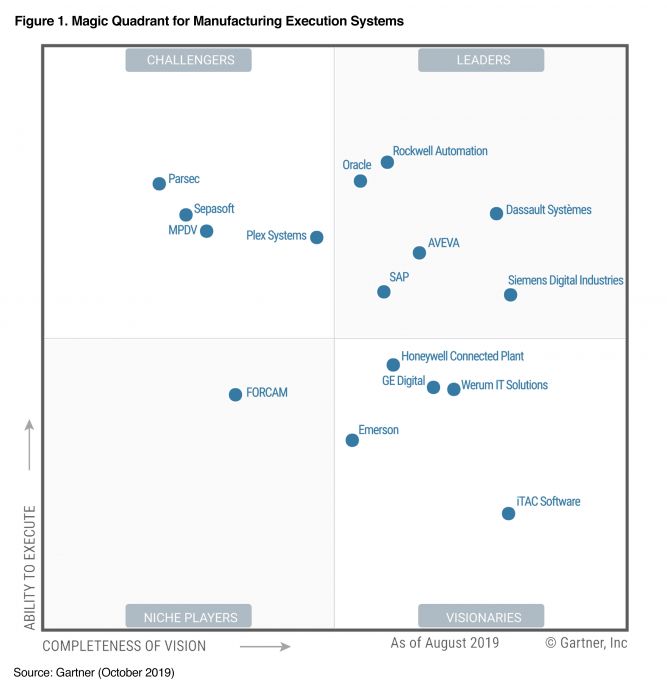 The 2019 Gartner Magic Quadrant for MES will provide you:
Key MES insights as manufacturing moves toward digital transformation
Key metrics used as a basis for how each company was ranked
A strong sense of where manufacturing is headed and who is leading the way
Fill out the form below to receive the 2019 Gartner Magic Quadrant for MES Report
Sepasoft® is built on the Ignition Platform by Inductive Automation. Hundreds of companies depend on Sepasoft® to deliver MES solutions to optimize their manufacturing data processes, from small- to mid-sized manufacturing entities, spanning all the way up through large-scale manufacturing enterprises.
Sepasoft® all but eliminates the barriers of proprietary stack layering, offering a competitive price point while encouraging enduser and integrator autonomy. The Sepasoft® MES Solutions delivered will continue to evolve with the industry as the future moves more towards digital transformation. The cleaner your data, the more time you save, and ultimately, the more money you make, reducing your overall bottom line!
---
Excited to learn more? Reach out to us to schedule a live demo today!
---
Sepasoft® MES provides out-of-the-box modular software solutions that are scalable and flexible, from a single machine, a single site, or scaled up to a global MES enterprise! Our Core Module Suite provides OEE Downtime Tracking, Track & Trace, Statistical Process Control, and Recipe & Changeover.
Our newly-released Business Connector Suite provides Web Services, Sepasoft Business Connector, and Interface for SAP ERP module solutions. Our MES software solutions are built on the Ignition platform and are tied in with your ERP system.
Visit our products page to learn more!