SPC & MES Collaboration
Seamlessly Collaborate with MES Applications
Unparalleled Collaboration
Sepasoft SPC Module can seamlessly collaborate with the full range of other Sepasoft MES applications. A production process fully employing Sepasoft MES offerings can collect quality information as well as track OEE (overall equipment effectiveness) and downtime, recipe management, preventative maintenance, traceability and more, all on one unified system.
Having a unified system reduces double entry and generates more raw data which can be analyzed and used to generate reports.
Data collected from the modules can easily be shared and analyzed. This awesome collaborative power makes it easy to analyze relational data, giving you the power to cross reference data, identify trends, look for correlations and more.
Break down the walls between the lab and the plant floor by transforming raw data into useful, actionable information with the Sepasoft SPC Module.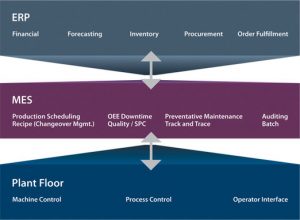 ERP Integration
Use Sepasoft's web services and database capabilities to easily connect your enterprise resource planning (ERP) systems, MES applications and plant floor control systems as your central hub.
Because Sepasoft is cross platform and based upon open standards protocols such as Java, SQL and OPC-UA, you can connect all your devices, databases and computers together to achieve unparalleled collaboration.
To purchase the SPC Module, contact Sales at 800-266-7798, ext. 247 or click here.

Are you interested in learning more about the Sepasoft MES Suite? Want a hands-on experience with our products?
Click the button below to request your MES demo.