SPC Control Charts
Analyze SPC Data with Customizable Charts
Analyze SPC Data with Customizable Charts
All the data in the world is of no use without good analysis tools, so we built the Sepasoft SPC Module with a full range of powerful and flexible SPC Control Charts. Based on security roles, control limit values can be calculated and set interactively on the Control Charts. The Additional Factors feature gives you the flexibility to associate and visualize other production information along with SPC data.
With customizable appearance settings for charts, tables, control limits and signals, you have the power to see the information you need – in the way you want.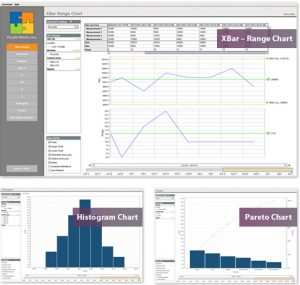 Supported Control Charts:
XBar – Range
XBar – S
Individual
Pareto
Histogram
P chart
NP chart
C chart
U chart
Easy to Update
It's easy to keep information in your SPC control charts up-to-date. You can simply add notes to samples as they are taken, and add assignable causes to samples whenever you need to. Charts are automatically updated with every new sample, so you can always be sure you see the most accurate data, when you need it.
Impromptu Analysis
Sepasoft SPC includes Impromptu Analysis; a tool that goes beyond SPC control charts to help you zero in on the cause of quality related issues.

Are you interested in learning more about the Sepasoft MES Suite? Want a hands-on experience with our products?
Click the button below to request your MES demo.