Track and Secure Recipes
Now you can extend the strong protection provided by Sepasoft's role-based security to your recipes. The Sepasoft Recipe / Changeover Module allows you to:
Assign user roles
Set permission for which roles can change which recipe values and by how much. For example, you can give the Administrator role permission to change a setting from 0–100, while limiting the Operator role's permission to change the setting from 20–80.

Track Recipe Changes
Whenever a change is made to a recipe setting, the details are recorded in the Recipe / Changeover Module's change log:
Who made the change
When the change was made
What the previous setting was
Why the change was made (you have the option to require an explanatory note)
And more
The change log is valuable in normal production environments and is especially critical in industries with significant compliance requirements.
Monitor Recipes in Real Time
After a recipe is selected and once the initial recipe values are set, it is vital to monitor them for any variances to prevent quality issues, downtime or other production issues. During production, recipe values can be changed from systems outside of the recipe management system, such as an operator interface terminal local to a machine.
By monitoring the recipe values, the variance log in the Sepasoft Recipe / Changeover Module lets you detect variances in real time or review variances by production run or date range. These capabilities make it possible to identify the root causes of production issues early on.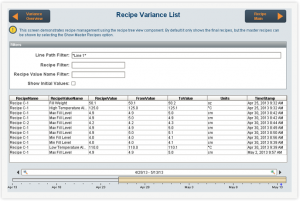 The variance log also lets you define limits for which variances to record. The following types of thresholds can be defined by recipe value:
Percentage +/- of recipe value
Fixed +/- values from recipe value
Fixed values
Custom
Analyze Recipes
Use the Recipe / Changeover Module's built-in analysis tools to:
Compare recipes
Review recipe change logs
Review production-run variances
And more
When you add the Ignition Reporting Module, you can also create multi-page reports with the recipe analysis information, and more.
To purchase the Recipe / Changeover Module, contact Sales at 800-266-7798, ext. 247 or click here.

Are you interested in learning more about the Sepasoft MES Suite? Want a hands-on experience with our products?
Click the button below to request your MES demo.