Master Recipe Management
Reduce the effort required to manage numerous recipes with master recipe functionality, which is only available in the Sepasoft Recipe / Changeover Module.
When you change a setting in the master recipe, it will replicate down to all of its sub-recipes while still maintaining the specific values of each sub-recipe. With unlimited levels available for master recipes, you can organize recipes in a hierarchical manner, greatly reducing the effort to maintain recipes.
Simple Recipe Editing
Managing recipes has never been easier using the Recipe / Changeover Module's built-in visual recipe editor. The following editing capabilities are now just a mouse-click away:
Create new recipes
Read current values into a recipe
Export recipes
Import recipes
Manage security
Select machines for recipes
And more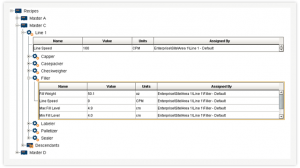 Complete Recipe Scripting
The Sepasoft Recipe / Changeover Module comes with complete scripting functions for you to:
Add recipes
Change values
Change a machine's recipe
If you need additional functionality beyond the out-of-box functionality of the Recipe / Changeover Module, you can use the script functions to accommodate your production environment, instead of changing your production environment because of software limitations.
OEE and SPC Integration
In a production process that fully employs the Sepasoft MES suite of modules, making a single product code selection sets recipe values, starts OEE (overall equipment effectiveness) tracking and collects SPC (statistical process control) samples. During and after the production run, the Sepasoft Recipe / Changeover Module enables you to analyze all of the following data in one unified system:
Recipe data
Production data
SPC data
And more