Manufacturing Scheduling
Coordinate Multiple Schedules To Improve OEE
Coordinate Multiple Schedules To Improve OEE
Scheduling software comes built-in with the OEE Downtime Module because of the value it brings in helping operation managers improve production efficiency. Access current schedules, including production scheduling, maintenance scheduling, and more.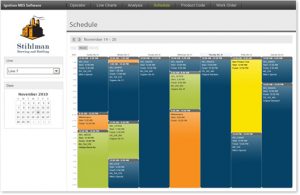 Coordinate Multiple Schedules
Scheduling software can be used to help improve coordination between departments. Multiple schedules must come together when scheduling production. If one item is not in unison with the rest, then production line efficiencies will drop. If raw material is not at the line when the line is ready to start production, then line production is waiting. Even if this is just 10 minutes, it negatively reduces the production line efficiency.
Real-Time Scheduling Updates
Instantly distribute schedule changes to all departments through the OEE Downtime Module's scheduling feature. The system provides current schedule information and change notification to all associated departments.
Monitor Production Schedule Progress
The OEE Downtime Module ties multiple departments together, and provides the tools to track required, scheduled, produced and remaining production information. Stay ahead of schedule by monitoring production progress status alongside production schedules.
Gain Competitive Advantage
Production schedules can change-sometimes at the last minute-making it difficult get updates delivered to the right people in a timely manner. Loss of efficiency, and in turn loss of profits, is the end result. Instead, use the OEE Downtime Modules's real-time scheduling software to equip your facility to effectively handle last-minute changes-and rejoice that you'll be another step ahead of your competitors.