Analysis Tools
Quickly Assess Your Facility's Production Efficiency
Executive Dashboards
Quickly organize and visualize efficiency, downtime, and work order progress across your enterprise. Pre-calculated OEE, TEEP, downtime, and production tables, charts and graphs are included.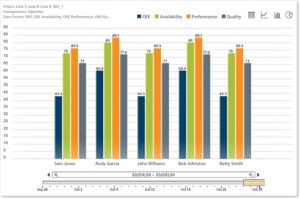 Customize Charts & Tables
Modify included analysis tables, charts and graphs, or easily create your own.
Filter & Compare
Production efficiency data can also be filtered to only include specific criteria. Additionally, comparisons can be made. For example, downtime by operator can be analyzed or even downtime by operator by shift.
The date range selector at the bottom is used to define the data range to include in the analysis. As you change the start or end dates, only the production runs that are within that range will be included in the analysis.
Custom Reports
Generate PDF reports for production runs, production lines, work orders, and more.
To purchase the OEE Downtime Module, contact Sales at 800-266-7798, ext. 247 or click here.

Are you interested in learning more about the Sepasoft MES Suite? Want a hands-on experience with our products?
Click the button below to request your MES demo.